Distance Education
A degree online that's not an online degree
Many pastors and missionaries desire to further their theological training and attend a seminary but cannot take time to leave their churches or mission fields. Because of this, some feel like they must settle for an online degree that is less than desirable. Central Seminary believes that pastors, missionaries, and students should not have to settle. We believe there are no shortcuts in ministry. Effective ministry often comes from effective preparation.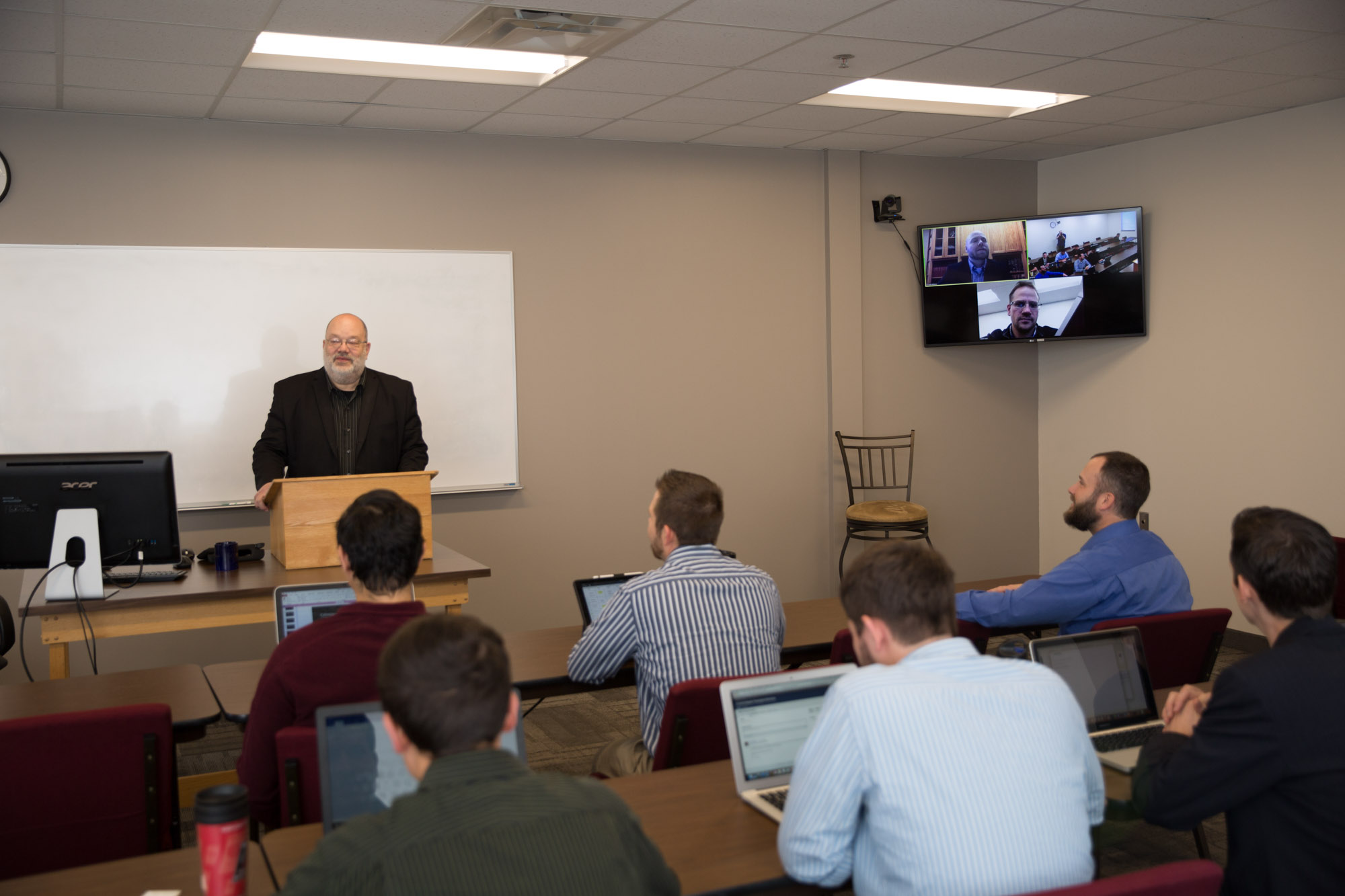 Central Seminary has designed a distance education program that is different from most. It puts the distance student in the classroom during the class. Through multiple high definition cameras and monitors, advanced sound equipment, and the best conference software available, distance students will be able to interact live with each class.
Central Seminary's distance education program is not a separate program – it's only a medium. None of our academic programs have been lessened and every requirement is the same. The only difference between resident students and distance students is just that…distance. All of our programs  are offered in their entirety through this medium.
Learn theology from theologians.
Learn history from historians.
Learn Greek and Hebrew from people that know them.
Learn ministry from pastors, not programs.
Be a student, not a consumer.
How does it work?
Each classroom has:
2 high definition cameras (one facing the professor and one facing the students)
Large, high definition monitors
Microphones
Dedicated computers
Advanced conferencing software
By using Zoom software, distance students will have the ability to see and hear both resident students and other distance students, professors, and any and all presented media (which includes PowerPoint, writing on the board, etc.). In addition, the resident students and professor can fully interact with the distance students enabling complete and simultaneous interaction.
Be in the class without being in the classroom.
For more information or if you'd like to see a demonstration of how it works, contact Matt Shrader in our recruitment office: mshrader@centralseminary.edu
What do you need?
Computer specifications needed for distance education:
PC, laptop, or tablet
4 GB or RAM – video streaming
Recommended Upload 16 MBS/Download 8MBS
Zoom Application (free to download at https://zoom.us)
An internet connection – broadband wired or wireless (3G or 4G/LTE)
Hardwired via Ethernet cable or no more than 25' from modem
Headset (ear and microphone) (e.g. Apple headphones)
Speakers and a microphone – built-in or USB plug-in or wireless Bluetooth
A webcam or HD webcam – built-in or USB plug-in, or HD cam or HD camcorder with video capture card
The skill level need to successfully use the Zoom platform is comparable to Skype, FaceTime, GoToMeeting, or any ​other web-based video conference software. The software downloads automatically, is free, and is user friendly, requiring a basic understanding of computer and video.
Nearly all newer computers meet the requirements. For specific requirements, visit https://support.zoom.us/hc/en-us/articles/20400317
When accepted into the Distance Education Program, students will be given authorization and electronic invitations to each class.
Central Baptist Theological Seminary is a full member of the National Council for State Authorization Reciprocity Agreements.